2. Two samples each containing same analyte at equal concentration are irradiated with different intensities of radiation as shown below. Select the CORRECT statement regarding the absorption shown by two samples.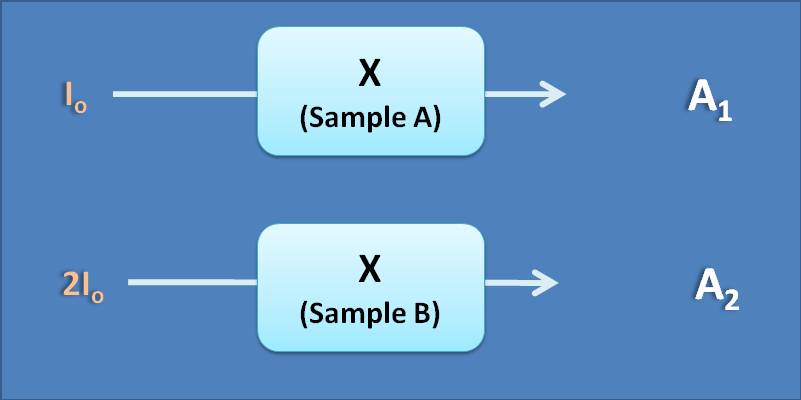 (A) A 2=4 A 1
(B) A 2=2 A 1
(C) A 2=A 1
(D) A 2=1/2 A 1
Absorbance is independent of intensity of the incident radiation as it is the ratio between intensities of incident radiation (I o) and transmitted radiations (I t). If you double I o, then I t will also be doubled proportionally making absorbance remains constant.
3. Which of the following statement is not correct ?
(A) Absorptivity changes with the intensity of the light
(B) Absorbance is independent of intensity of the light
(C) Absorbance has no units
(D) Absorptivity is a constant and depends on the nature of the molecule
Absorptivity is the intrinsic property of a molecule and it will be a constant at a specific temperature and wavelength of radiation. So it doesn't change with intensity of incident radiation at a particular wavelength. that