3. If the above compound was completely reduced, what will be the possible transitions it can undergo?
(A) n→p*
(B) s→s*
(C) p→p*
(D) n→s*, s→s*
Since the above compound is acetaldehyde, on reduction it gives ethanol. Now ethanol contains only sigma and n electrons therefore it shows sigma to sigma and n to sigma transitions. Both of these transitions fall within vacuum UV region.
4. At alkaline pH, phenol loses one proton and exists as phenoxide anion as shown below. Select the correct statement regarding their absorption.

(A) Phenol shows more absorption than phenoxide anion
(B) Phenoxide anion shows more absorption than phenol
(C) Phenol has equal absorption as phenoxide anion
(D) Phenol shows absorption but phenoxide anion doesn't
Generally absorption of a chromophore is increased by few of the groups like -OH, -NH 2 which are called as auxochromoes that facilitate absorption by the supplying lone pair of electrons in them. So more the number of lone pair of electrons, more will be the auxochromic effect. Here phenol has oxygen with two lone pair of electrons while phenoxide anion has oxygen with three lone pair of electrons.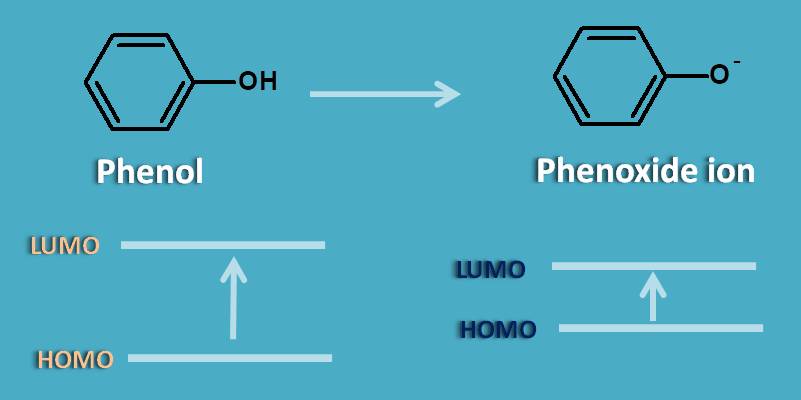 Therefore phenoxide ion shows more auxochromic effect thereby increases absorption.